Hearing God's Voice in Every Season
"The goal of hearing the heavenly Father's voice isn't just hearing His voice; it's intimacy with Him." — Mark Batterson
There is nothing more important for each of us as Christ followers than hearing God's voice and following His leadership. And in these days of increasing uncertainty all around us, that truth takes on a new urgency and emphasis. The good news is that God is constantly on the move in our lives and circumstances to turn our hearts toward Him so that we can clearly hear His message of love for us, and embrace His plans and purposes for our lives.
For Laurie and me, we've found that the three most effective ways we experience God speaking to us is: 1) through time spent in His Word; 2) through His Holy Spirit, that "still, small voice" whispering truth, wisdom, and direction within us; and 3) through interaction with others — fellow believers, pastors and Christian leaders, and, not insignificantly, the many wonderful ministry voices available to us every day on TBN.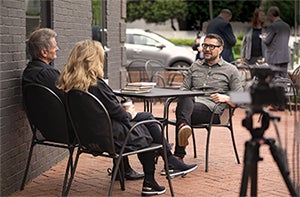 Of course, I think most of us would have to confess that the world around us is really good at creating distractions that can pull us off track so that we're not as focused on hearing God's voice as we should and on following His leadership. From music, movies, and television to the Internet and social media, more than ever before there is a discordant chorus of cultural voices all clamoring to be heard. And I think it's fair to say that there are few of us who have not been influenced to some extent by these voices that are at odds with the One Voice we really need to hear above all others.
That's why God's grace is so crucial in our lives. When we find ourselves distracted or missing out on what He wants to pour into our lives, He is there to make up our lack and move us back on track. In fact, in the midst all of the competing voices that call out to us, we can be assured that the voice of our Savior and Lord will rise above them all to guide us.
What does His voice sound like? In Psalm 29 David describes God's voice as glorious, majestic, and powerful like thunder. "The voice of the Lord breaks the cedars," David declares (verse 5), and, "The voice of the Lord shakes the wilderness," (verse 8). Yes, God can and does use His voice to remind the world of His undeniable lordship over everything. But that's not the voice He most often uses with us, His beloved children.
As our friend Pastor Mark Batterson writes in his outstanding book, Whisper: How to Hear the Voice of God: "God has an outside voice, and He's not afraid to use it." But, Mark adds, "when God wants to be heard, when what He has to say is too important to miss, He often speaks in a whisper just above the absolute threshold of hearing."
That is what 1 Kings 19:12 refers to as God's "still small voice" (NKJV). The New International Version calls it "a gentle whisper," and when He is speaking to us closely, personally, as He does to those He loves and treasures most, I believe that is the voice He uses.
"...when God wants to be heard, when what He has to say is too important to miss, He often speaks in a whisper..." — Mark Batterson
Pastor Mark explains it this way: "We lean toward a whisper, and that's what God wants. The goal of hearing the heavenly Father's voice isn't just hearing His voice; it's intimacy with Him. That's why He speaks in a whisper.  He wants to be as close to us as is divinely possible!  He loves us, likes us, that much." In other words, God uses His gentle, unmistakable whisper to communicate His overflowing heart of love, mercy, and compassion toward us, and the special plans and purposes He has for us. As His children, that whisper is a voice we can clearly hear, recognize, and follow — even in the clamor of all the other voices that beckon to us — if we quiet our hearts and truly listen.
I'm pretty sure that is the kind of listening Jesus means when He says:
My sheep hear My voice, and I know them, and they follow Me. And I give them eternal life, and they shall never perish; neither shall anyone snatch them out of My hand. (John 10:27-28)
Friend, for almost fifty years it is this voice — God's gentle, unmistakable whisper of love — that has been our joy to communicate and share with people across the earth through the television outreach of TBN. With every program we produce and air, every ministry voice we welcome to our broadcast schedule, every moment we are on the air twenty-four hours a day, our goal today is the same as when my parents, Paul and Jan Crouch, launched TBN with a small core of committed, praying partners back in May 1973. That goal, that vision, is to bring more "souls, souls, souls" (as my father used to say) into God's Kingdom, and to encourage them as they seek to hear and follow Jesus through every season and circumstance of life.
Laurie and I are so deeply grateful to God for the many dear folks who have stood with TBN over the years, as well as for the new generation of partners who are taking up the baton of prayer and financial stewardship as we continue to blaze new trails of outreach across the earth. It is the commitment of people just like you that enables us to reach individuals and families on every inhabited continent with the gentle voice of Jesus, the Good Shepherd — filled with forgiveness, salvation, healing, and hope.
Thank you for joining us in taking His love to the nations.
Our prayers for you always,
Matt and Laurie