Prime Time Is Coming to TBN, With Exclusive and Original Faith-and-Family Programming Every Weeknight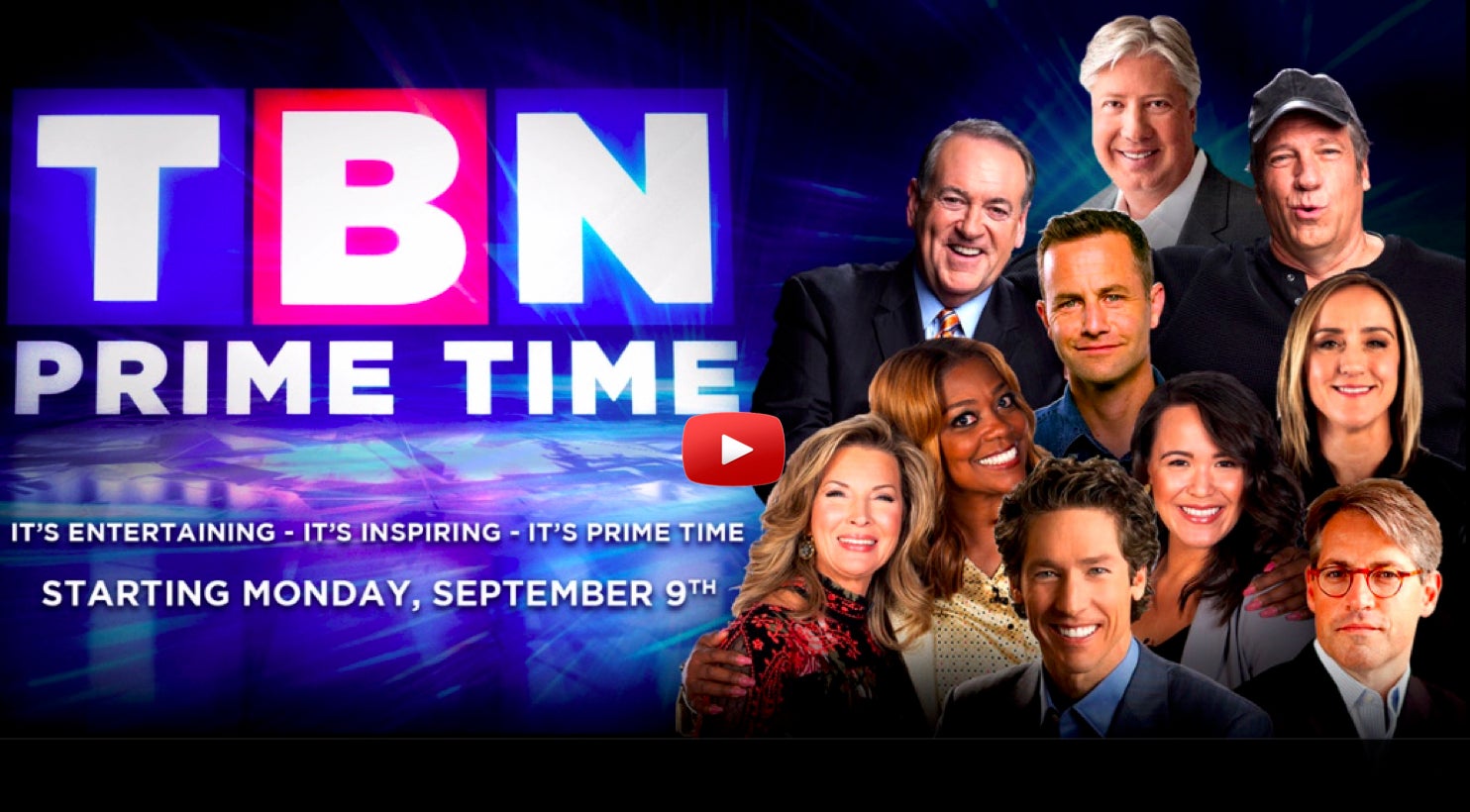 LOS ANGELES (September 3, 2019) — This fall TBN, America's most watched faith-and-family television network, rolls out an all-new Prime Time weeknight schedule of exclusive and original programming, including new series from top Christian leaders, cutting-edge music and worship from popular artists, engaging talk, and more.
"We're upping our commitment to reach a new generation with God's incomparable message of hope and grace," said TBN president Matt Crouch. "And we believe there's no better way we can do that than through fresh, innovative programming that entertains and inspires, while also communicating life-changing truth."
Premiering Monday evening, September 9, TBN Prime Time will feature original TBN programming each night of the week, with a specific focus for each evening:
Mondays bring all-new teaching and ministry programs from top Christian leaders like Pastor Robert Morris of Dallas' Gateway Church, and Pastor Joel Osteen with his first-ever in-studio teaching series, Your Best Life Now, based on his runaway New York Times best-selling book.
Tuesdays are especially for women, featuring dynamic programs from popular authors and teachers Beth Moore, Joyce Meyer, and Christine Caine, along with a "best of" round-up from TBN's exclusive daily women's talk show Better Together.
Wednesday nights are filled with worship and uplifting music, including new installments from the classic documentary series Music, Moments, and Memories, exuberant praise from Gospel Worship Experience, and an exciting new reality series, When the Light Comes, hosted by the award-winning contemporary Christian group Big Daddy Weave.
Thursdays bring a fun-filled new talk show from Kirk Cameron, One on One, complete with crazy stunts, unexpected guests, and great conversation on all sorts of important and interesting topics. That's followed by new seasons of viewer favorites like Drive Thru History and the powerful and thought-provoking cultural docu-series Jesus the Game Changer.
The week finishes strong on Fridays with Sid Roth's life-changing series It's Supernatural, Erick Stakelbeck's hard-hitting Israel-themed news show The Watchman, and an exciting focus on Bible prophecy with Perry Stone's Manna-Fest, along with End of the Age from Irvin Baxter.
Matt Crouch noted that TBN's popular flagship talk show, Praise, has helped make the network the leader in weeknight faith-and-family programming for many years. "While Praise still anchors our evening schedule, we're excited to roll out a fresh lineup of exclusive and original Prime Time TBN programming five nights a week," he said. "From all-new teaching and ministry programming to unforgettable worship, relevant talk, and some innovative new series, TBN is committed to impacting new generations of viewers with television that is truly life-changing."
Beginning Monday, September 9, don't miss Prime Time — weeknights on TBN. Check out our TBN Prime Time page HERE, and find out where TBN is airing near you with our channel finder. You can also watch TBN on our livestream HERE, or download our all-new app to view TBN on your Apple or Android devices.
About the Trinity Broadcasting Network
Trinity Broadcasting Network is the world's largest and most watched faith-and-family broadcaster, reaching over 175 nations across the earth with inspirational and entertaining programming 24 hours a day in 14 languages and on 32 global networks. As the world's most influential non-profit religious broadcaster, TBN has led the way in expanding the impact of faith-based television across the earth through the creation of innovative content designed to reach every viewer demographic with the life-changing message of hope and grace. To find out more about the TBN Networks, visit us at tbn.org. And follow us on Facebook, Twitter, and Instagram @tbn.