Here's Why Christians Must Stand With Israel
by Matthew Crouch
President, TBN Networks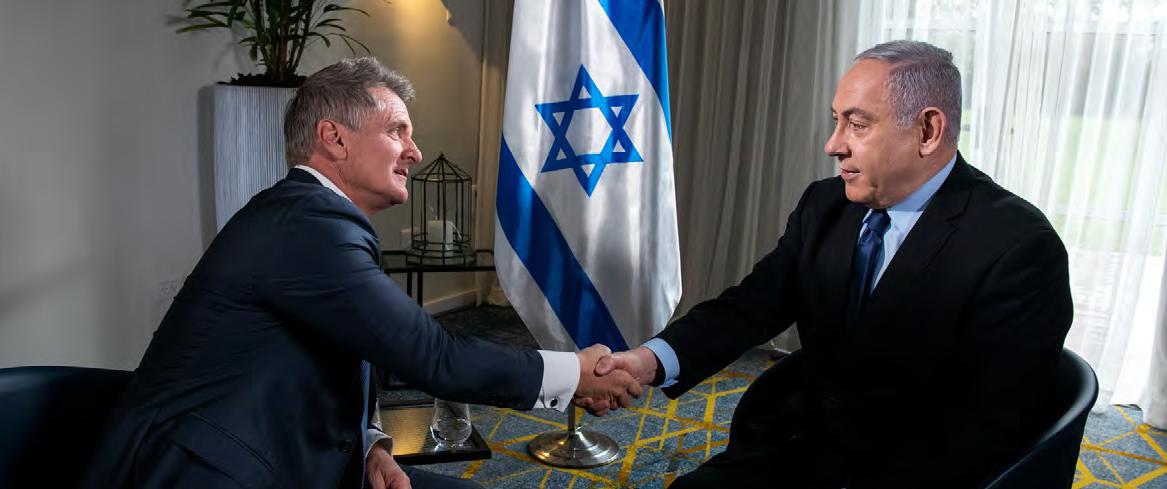 Recently I had the distinct honor of sitting down with Israel's Prime Minister, Benjamin Netanyahu, for his first official U.S. interview of 2020, which you can view in its entirety by clicking this link.
It's significant that while Mr. Netanyahu could have gone with one of the major networks or news services, he chose, instead, to grant this historic extended interview with TBN, a Christian network — the only Western media interview after the U.S. eliminated Israel's arch enemy, Iranian General Qasem Soleimani.
Not surprisingly, Mr. Netanyahu's interview with the "Christian press" reverberated across both America and the world, and was picked up by such outlets as ABC, Fox News, the Daily Wire, the Jerusalem Post, the Times of Israel, Haaretz, the Guardian (UK), and many others.
There's no secret as to the reason for the Prime Minister's choice of sitting down with a Christian network like TBN. He made it clear when he said during our interview that his country has "no better friends in the world" than the U.S. Christian community that stands in prayer and unity with Israel and the Jewish people. 
As just one of example of that friendship, over the past forty-six years our own TBN has made blessing Israel a priority in just about all we do. It began with my parents, TBN founders Paul and Jan Crouch, who met and personally prayed with nearly every Israeli prime minister, and who introduced thousands of individuals to the land of Israel through scores of Holy Land tours they hosted over the years. Today it extends to TBN's state-of-the-art production facility in the heart of Jerusalem that is creating cutting-edge, Israel-centered inspirational and life-changing programming enjoyed by viewers around the world.
In my exclusive face-to-face interview with Prime Minister Netanyahu, it was clear that he was speaking to friends as he shared with our TBN audience about Israel's crucial role as the Middle East's sole democracy, its commitment to defending itself against its enemies, both regional and international, and the important commitment of President Trump and America's conservative and Christian community to stand in solidarity with Israel and the Jewish people.
Addressing the issue of Israel's most aggressive enemy, Iran, the Prime Minister called the surgical drone strike that killed Soleimani a "tremendous achievement," and pointed out that his goal was to conquer the entire Middle East and destroy Israel. He stated that Soleimani was nothing less than "an engine of destruction," and said that "his removal helps roll back the forces of tyranny in the Middle East."
As Israel hosts the 75th anniversary of the liberation of the Auschwitz death camp and the end of the Holocaust, Netanyahu recalled that throughout the horrific years of the Holocaust no nation or people took a stand to defend Europe's helpless Jewish population. And while Israel has been a strong and independent nation for over seventy years, "the attempts to destroy the Jewish people have not disappeared," he told me. "Iran openly declares every day that it wants to wipe Israel off the face of the earth."
The Prime Minister went on to note that today Israel is prosperous and, despite its relatively small size geographically, is ranked the eighth most powerful nation in the world. Most, importantly, Israel has both the capability and the will to defend itself, and, as Mr. Netanyahu said, "we will never, ever again be defenseless in the face of those who want to destroy us."
Mr. Netanyahu also related the startling news about how the International Criminal Court (ICC) in The Hague has launched an aggressive attack on the nation of Israel and its right to exist. "They've decided to declare war on the Bible," he said, and added that this international legal body has ruled that "if Jews live in the land of Judea, of Israel, we are committing a war crime.... The war crime charge applies only to Jews living in the Jewish land. This is so outrageous, and defiant of history and of the truth, and of our common values and traditions."
As I sat and listened to Prime Minister Netanyahu, it hit me strongly that the non-stop efforts by Iran and others to destroy Israel amount to nothing less than an attack against the biblical narrative concerning Israel. Those who are trying to change that narrative are not fighting against Israel. They are fighting against God. That is what we as Christians believe, and that is why it is so crucial that those of us who love and stand for Israel re-double our determination to bless this nation and people so dear to the heart of God.
As you take the time to click on the link and view this exclusive interview with Prime Minister Netanyahu, please join Laurie and me in fervent prayer for the "peace of Jerusalem" — for its safety, security, and God-ordained future. As believers in Yeshua and friends of Israel, we can do no less.