Your Strength Comes From God's Grace
  BETTER TOGETHER SERIES: CHANGE STARTS WITH US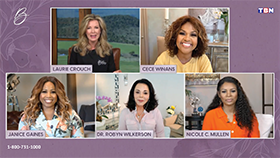 Laurie Crouch hosts discussions on race and equality in America with CeCe Winans, Nicole C. Mullen, Janice Gaines, and Dr. Robyn Wilkerson.
"Pentecost is what we need ... as sisters and Believers—that the love of God would just pour through us, that we could convey, find, and hear a new way of preaching the truth. The truth will set us free."   
Watch now on demand here
   PENTECOST: YOU SHALL RECEIVE POWER
Celebrate the coming of the Holy Spirit as a guide, teacher, and comforter for all Christians! Watch Pentecost: You Will Receive Power.
"What God does is going to be equal, but usually better in quality and kinder than what we had already preconceived. That is a matter of trusting."

—

Brian Houston