Yes and Amen!
God's Promises Never Fail.
Without a doubt the past several months have been a period of great uncertainty for each one of us. In fact, looking back on the COVID crisis which took all of us by surprise back in early March, followed by an intense time of social unrest across America, I think it's safe to say that everyone reading this letter has been impacted in some way.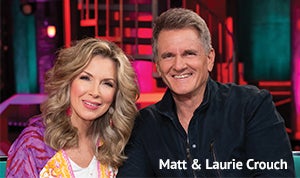 While it may be true that only a relatively small percentage of us have been directly touched by illness related to the global pandemic, virtually all of us have been affected in other ways — in changes to our daily lives and routines, in our jobs and finances, in how we relate to family, friends, and neighbors, and even in how we worship together. Much of what we've taken for granted our entire lives have become real blessings to treasure and share.
One thing that has really touched Laurie and me throughout this lengthy coronavirus crisis, along with the social conflicts that have swept through our nation, is the extent to which so many people have grown anxious and fearful — for their health and wellness, for their families, for their finances, for what lies ahead. Even many who trust in Jesus have found themselves uncertain, wondering if what they believe about God, His goodness, and what they've embraced from His Word will be enough to sustain them and those they love in times of difficulty.
Of course, you and I know the answer to that question is a resounding "Yes and Amen" through Jesus! His death and resurrection have sealed every promise of God for our benefit. In fact, the apostle Paul makes that truth clear in 2 Corinthians 1:20 when he declares that "all the promises of God in Him are Yes, and in Him Amen, to the glory of God through us" (NKJV).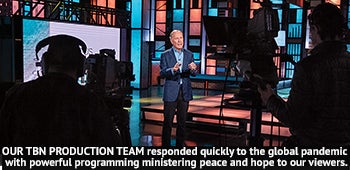 Early on in this crisis, as Laurie and I prayed we realized that TBN's broadcast platform was perfectly poised to deliver the message of God's faithfulness in every circumstance that people all over the world need to hear. As the situation heated up globally, we quickly adapted many of TBN's production resources to create and air programming that would especially minister faith, hope, peace — and God's unfailing promises — to viewers as they daily faced hardship and uncertainty.
Among the many TBN ministry partners adding their wisdom and encouragement to these programs has been our good friend, author, and pastor Max Lucado. Over the past months Pastor Max has hosted a series of one-hour TBN specials that powerfully reinforce the "Unshakable Hope" available to each of us in every circumstance through God's unbreakable promises.
"It is not God's will that you lead a life of perpetual anxiety," Pastor Max assures viewers in one of those specials. "It's not His will that you face every day with dread and trepidation."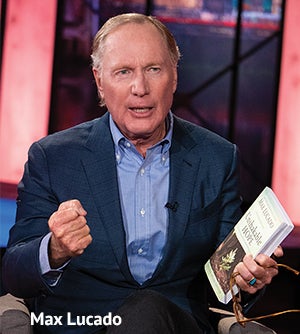 He goes on to note the multiplied thousands of "exceedingly great and precious promises" God has made for our benefit (2 Peter 1:4) and adds: "God made you for more than a life of fear-filled angst and mind-splitting worry. He has a new chapter for your life" — a chapter filled with peace, purpose, and victory.
". . . we're trusting Him to guide us through this season — not only that we might survive, but that we might thrive in a season of turbulence."
Similarly, as social unrest erupted across America following the killing of George Floyd in Minneapolis, we called on a number of respected Christian leaders to speak into the situation in a biblical and relevant manner, and to bring assurance to our viewers that, even in the midst of chaos and turmoil, God is in control. During one of those TBN specials, our good friend, Bishop T.D. Jakes, offered this message of hope to viewers: "To the world that is watching, I know there is a lot of bad news everywhere, but we have good news, we've got positive news: Jesus is still Lord, and God still sits on the throne. He's got everything right in the palm of His hand. And we're trusting Him to guide us through this season — not only that we might survive, but that we might thrive in a season of turbulence."
It is TBN ministry partners like Max Lucado and Bishop T.D. Jakes, and the wealth of life-changing programming they're a part of, that make Laurie and me feel so humbled and honored to be part of TBN's broadcast outreach — an outreach that is touching every corner of the globe with the love of Jesus.
Dear friend, never forget that it is your regular prayer and financial partnership that enables TBN to produce and air programming that is touching hearts and homes in literally every nation on earth — including many places where sharing the gospel and being a Christ-follower are strictly forbidden.
Thank you for your ongoing commitment to stand with us in this timely ministry! And thank you for standing in the gap on behalf of the billions of souls we're prayerfully claiming for the kingdom of God as TBN beams the message of hope and grace through Jesus around the world.
May God bless you for your faithfulness to the cause of Christ.
Matt and Laurie