Resurrection and Life
Resurrection and Life — John 11:25.
I don't think there is a phrase in all of Scripture that more perfectly communicates God's hope and grace, and the plans and purposes He has for us in this pivotal time of history.
As if any of us needs a review, the past year with its nearly overwhelming array of social, economic, political, and spiritual upheaval, has tested and tried each of us to degrees most have never before experienced. Many individuals and families have been stretched to the very limits physically, financially, emotionally, and spiritually.

Thankfully, through it all we can trust in God's unending mercy and stand on His unchanging Word. And as we do, we're more than ready for a download of fresh blessing and abundant life. Just as we wait for the budding trees, blooming flowers, and the warm winds that bring the promise of springtime — in the same way each of us is poised and ready for the "newness of life" (Romans 6:4) God has promised to everyone who puts their trust in Jesus.
That's why these words of promise spoken by Jesus in John 11 are so relevant to us here and now. They speak with absolute authority of the resurrection power and abundant life that is available to us — and a world in desperate need — through Christ's finished work.
"God's heart is for you to be healed and whole.... The cross of Jesus is the reason you can enjoy His divine
health, peace, and abundant life today!" — Joseph Prince
I think we're all familiar with this New Testament Gospel story. Jesus receives the news that His friend Lazarus, brother of Mary and Martha, is sick. However, by the time He arrives at the home of His three beloved friends Lazarus has already been dead and buried four days. It is into this tragic and hopeless situation that Jesus steps, poised to demonstrate His life-giving power as Savior and Lord.
When Martha expresses her disappointment in the lateness of Jesus' arrival — "Lord … if you had been here, my brother would not have died" (John 11:21, NIV) — Jesus responds with a simple declaration that has resounded through the ages into the hearts of generations of Christ followers:
I am the resurrection and the life. The one who believes in me will live, even though they die;
and whoever lives by believing in me will never die (vv. 25-26, NIV).
With that, Jesus calls Lazarus forth from the tomb, boldly demonstrating that He alone is the source of resurrection and eternal life. And since that first glorious Easter morning when He rose victorious over sin, sickness, suffering, and death, Jesus alone has been breathing His resurrection life, healing, and hope into the hearts of individuals across history.
In his powerful devotional book Provision Promises, our good friend Pastor Joseph Prince reflects on this story of Christ's awesome resurrection power in action. "God never meant for man to die," he writes. "God counts death as an enemy. He hates death. All things that lead to death — all forms of sickness and disease — are not from God."
John 11: 35, the shortest verse in the Bible, recounts that before Jesus raised Lazarus from the dead, he spent a few moments weeping at His friend's tomb. He did so, writes Pastor Joseph, "because He remembered that it was never God's heart for man to fall sick, grow old, and die. But because the consequence of sin is death, God sent Jesus to bear the punishment for all our sins. And at the cross, Jesus conquered death once and for all, setting us free from sicknesses and diseases forever!"
Pastor Joseph concludes that "God's heart is for you to be healed and whole. He loves you so much that He sent Jesus to redeem you from death. The cross of Jesus is the reason you can enjoy His divine health, peace, and abundant life today!"
And that, friend, is where we stand in victory through Christ in this unprecedented hour of human history! As we approach the Easter season in the weeks ahead, the hope and grace that is ours through Jesus, our Resurrection and Life, is the front-and-center message we are declaring across the earth through TBN — just as we have for nearly fifty years.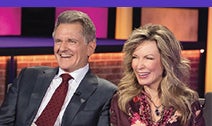 More than ever before, individuals and families across the earth desperately need to know that Jesus is present to deliver them from the power of sin and death. He is their healer, their provider, their constant friend and guide through every season of life.
By God's grace, and through the prayer and financial commitment of individuals like you, that is happening through your TBN. We are reaching more souls around the world than ever before with life-changing programming twenty-four hours a day across 175 nations, in over a dozen languages, and on more than thirty strategically placed networks throughout the earth.
Thank you for joining us, and countless other TBN partners around the world, in this timely outreach of God's hope and grace! Like the countless faithful TBN partners who have stood with us in reaching the world with God's love for nearly fifty years, we are thankful for the next generation of individuals and families who have chosen to grab the baton and "run the race," joining with us to spread the gospel to fields around the globe that are "white unto harvest" as never before!
God bless you, and our prayers for you always,
Matt and Laurie Crouch