Do This in Remembrance of Me
Partaking of Health & Wholeness at the Lord's Table.
Laurie and I have been thinking about Communion quite a bit lately. That's because our eyes have been opened to some powerful truths about "the Lord's Supper" — truths we want to be sure our partners understand as well.
The fact is, every time we come across something that blesses and helps us, our first thought is, "Our friends need to know about this!" And this subject is one of those things we think you need to know more about.

IN REMEMBRANCE
"Do this in remembrance of Me." We know this phrase from reading God's Word. We know it from observing Communion at our churches. We certainly hear it every Resurrection Sunday. Some of us even remember those words being engraved on furniture at the front of the church's sanctuary, on "the Communion table."
These words are so familiar to us. But sometimes a thing can become too familiar. In the familiarity, important truths are lost or forgotten. We lose the significance. Laurie and I are convinced that for many Believers this is certainly true for Communion. We'd fallen into this trap ourselves. But recently we've rediscovered the power that's available to us at the Lord's Table.
"Communion is ... a good time to release your faith and ask
God for healing in your physical body, as well as every other area
of your life." — Joyce Meyer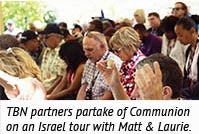 Communion. The Lord's Supper. The Lord's Table. Whatever you choose to call it, pretty much every church shares Communion at some point. In some churches, it's observed only on special occasions. Others do it monthly or weekly.
... Communion is a powerful and significant opportunity to access by
faith all that Jesus provided through His death, resurrection,
and ascension to the throne in heaven.
What many Believers don't understand is that they can take Communion in the privacy of their homes—alone, as a married couple, or as a whole family. What even fewer understand is that taking Communion is a powerful and significant opportunity to access by faith all that Jesus provided through His death, resurrection, and ascension to the throne in heaven.
A NEW COVENANT
As you know, Jesus personally established the practice of Communion on the night He was arrested—at His final Passover meal with His disciples. For centuries, Passover had pointed forward to Jesus' sacrificial death. On that night, Jesus told His disciples (and us) that something significant was about to change: From that point forward, His followers were to take the bread and the cup to look back in remembrance of His sacrifice and the truth that it was establishing a new and better covenant between us and God.
Then he lifted up a loaf, and after praying a prayer of thanksgiving to God,
he gave each of his apostles a piece of bread, saying,
"This loaf is my body, which is now being offered to you.
Always eat it to remember me." 
After supper was over, he lifted the cup again and said, "
This cup is my blood of the new covenant I make with you,
and it will be poured out soon for all of you" (Luke 22:19–20, TPT).
As Believers, we are the recipients of the greatest gift ever given. When Jesus died on the cross as the sacrificial Lamb, initiating the New Covenant, He gave us access to an extraordinary array of benefits and blessings. The greatest of these is eternal life. But healing, restoration, and wholeness (spirit, soul, and body) here and now— in this life—are pretty great too!
When Jesus declared, "It is finished!"—He meant it. He had fulfilled everything the Law and the prophets had pointed to in the Old Testament. And He had accomplished everything necessary to redeem us from every aspect of the curse that had held Mankind captive since the Fall.
This is why Bible teachers like Joseph Prince continually refer to "the finished work of the cross." There is nothing left for Jesus or the Father to do. Jesus has already provided for our healing and every other good thing. Taking Communion reminds us of that fact and stirs up our faith and expectancy.
HEALING, BLESSING, AND UNITY
We've heard Pastor Prince share many testimonies of people who have experienced supernatural healing simply by taking Communion while being mindful of all Jesus purchased for us on the cross. In fact, his latest book, Eat Your Way to Life and Health, is all about how to access Jesus' healing power through Communion.
Communion is an amazing and wonderful opportunity, yet so few of God's people are taking full advantage of it! But, with your help, dear partner, we're out to change that. All this month we'll be pointing the whole world to
resources
that will help them walk through this gateway to healing and blessing.
"There is such healing power in the Holy Communion, but too many
people have been robbed of this gift either because they do not
know about it, or because they have been taught wrongly about
what the Lord meant for it to be."  — Joseph Prince
As you participate in that mission this month, we want to bless you with these resources too. This revelation has completely transformed the way we observe Communion. In addition to Joseph Prince, it's not unusual to hear other TBN Bible teachers emphasize these truths as well. (We've included a few encouraging quotes from some of them.) But Pastor Prince's resources on the subject are especially clear and helpful.
"Take Communion to access the authority and power of the cross
… both a physical and spiritual reality allowing you full entry
into the cross's accomplishments. Communion provides the blessings
attached to Christ's death and resurrection." — Tony Evans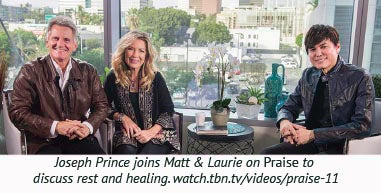 Finally, we want to remind you that Communion holds still another powerful spiritual benefit. It not only connects us to the finished work of Jesus, but it connects us to each other and to Believers all over the world. In Boston, Baghdad, Bangkok, Beijing, and Burkina Faso, Jesus-followers partake of the Lord's Table, some of them doing so in secret and in great peril for their lives.
It's amazing to think about how the redeeming blood of Jesus unites us all into one family.
Your partnership with TBN grows and encourages that family every day. Thank you.